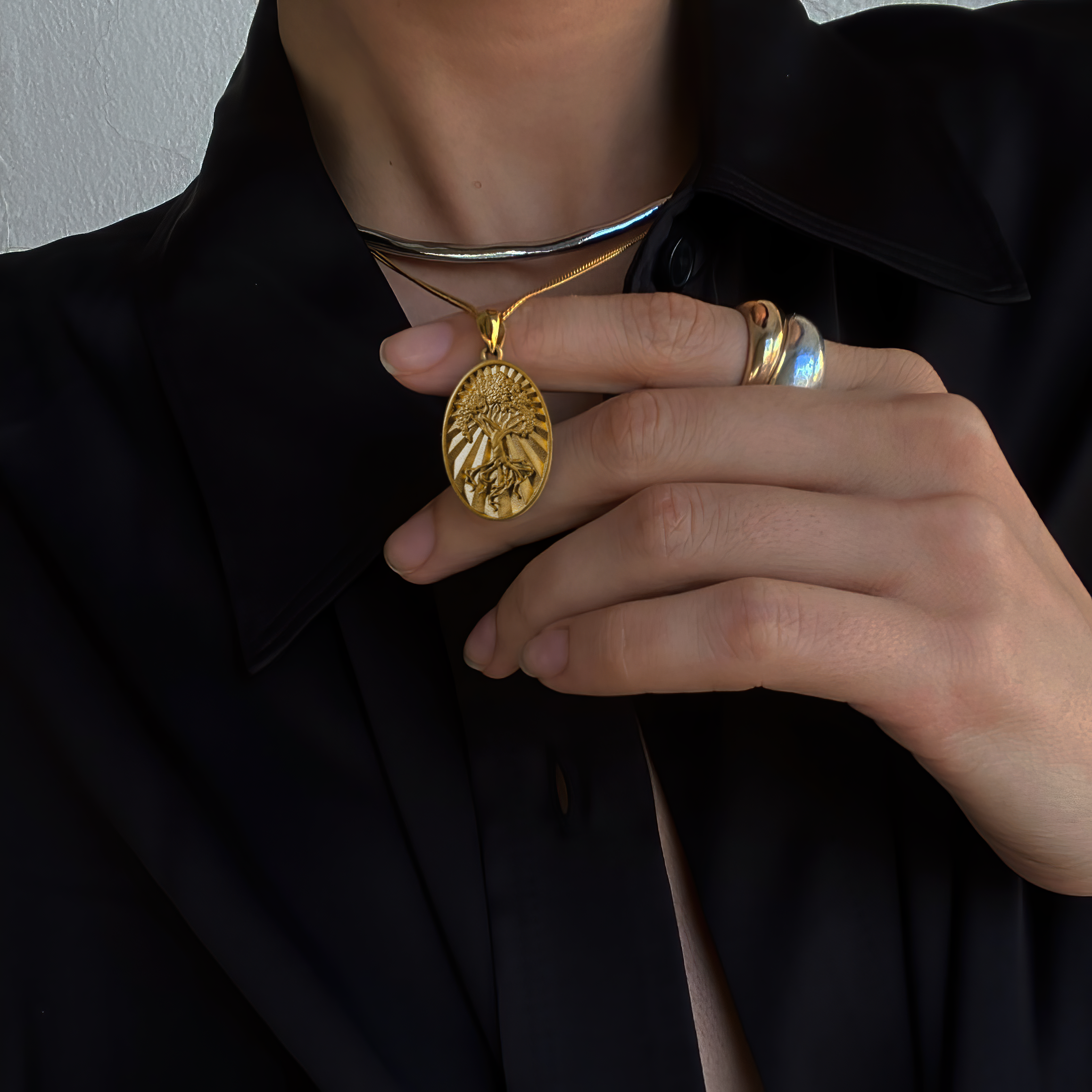 Wearing Your Art: The Rise of Contemporary Art Necklaces
Contemporary art is all about pushing the boundaries and challenging traditional norms.
This is particularly true in the realm of jewelry design, where contemporary art necklaces are becoming increasingly popular. These unique pieces blur the lines between art and fashion, allowing the wearer to make a bold statement and adorn themselves with something that is at the same time meaningful. It's an exciting time to be a part of the design world as these contemporary art pieces are pushing the boundaries of what's possible and opening up new possibilities for designers and wearers alike.
While the history of jewelry design is a fascinating one, it is not a fast one. The creation of novelty designs used to be the result of  interaction of different cultures and civilizations exchanging stylistic motives and techniques.On the contrary in modern times, we are seeing fast shift and stylistic innovations that can be attributed to advancements in manufacturing techniques, as well as the influence of the internet and social media. The proliferation of these technologies has allowed for a wider exposure and acceptance of unusual and exotic materials within the traditionally conventional world of jewelry, providing a global platform for designers to showcase their work and push the boundaries of what is considered traditional.
Nevertheless In today's world where fast fashion and mass-produced jewelry dominate, more and more  people are looking for a way to stand out and express their individuality and stand out from the crowd. Contemporary artwear in the form of jewelry and accessories offer a solution to this problem, as it provides an opportunity to wear something truly unique and personal. Contemporary art necklaces in particular, are often made as one-of-a-kind or limited pieces, they are created by using unconventional materials and techniques, they are bold and loud with meaning, making them the perfect way to make a statement and set yourself apart from the crowd.
Contemporary art necklace design is always evolving and pushing boundaries, and there are a couple of popular trends that are worth mentioning.
One trend is the use of sculptural elements, featuring large, three-dimensional forms that are both beautiful and attention-grabbing. These necklaces are typically made from materials such as metal, wood, or resin and are often inspired by figurative or abstract shapes.
The other trend is about using found or repurposed materials. These necklaces are often created from items that would otherwise be considered waste or discarded, such as old keys, buttons, or even plastic objects. This trend reflects the growing environmental and sustainability concerns in the fashion and jewelry industry.

Contemporary jewelry designers and brands are increasingly offering their clients the option to personalize their pieces, allowing them to create a truly one-of-a-kind piece of jewelry that is specific to their style and preferences. This is a great way to get a unique piece without incurring excessive manufacturing costs.
In conclusion, contemporary art necklaces are a perfect blend of form and function. They are beautiful, unique and make a statement. They challenge traditional jewelry design and allow the wearer to express their individuality. Whether you are looking for a sculptural statement piece or a more minimalistic design, there's sure to be a contemporary art necklace that appeals to your personal taste